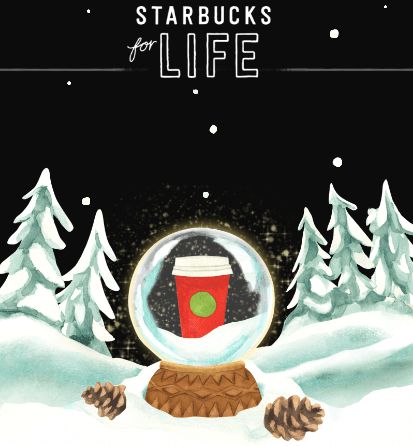 Update:  There's a new game!  Visit the 2019 Holiday Edition of Starbucks for Life for this year's game!
The below article is for a past year's Starbucks Promotion (2017)
---
Enter the Starbucks for Life Game 2017 for a chance to win Starbucks Coffee for life, or lots of other great prizes!
Prizes:
Starbucks for Life – 5 Winners
Starbucks for a Year – 15 Winners
Starbucks for 6 Months – 25 Winners
Starbucks for 3 Months – 50 Winners
Starbucks for a Month – 100 Winners
Starbucks for a Week – 500 Winners
125 Bonus Stars – 30,000 Winners
75 Bonus Stars – 75,000 Winners
50 Bonus Stars – 130,000 Winners
10 Bonus Stars – 1,300,000 Winners
Starbucks mug or tumbler – 2,000 Winners
One Holiday Food Item – 35,000 Winners
One Holiday Drink – 5,000 Winners
How the Starbucks for Life Game Works:
Visit www.starbucksforlife.com.
Login to play.  You must be a member of Starbucks Rewards, which is free.
Once logged in, you play the Game by "tapping" the snow globe to reveal Game pieces.
Collect three (3) different Game pieces, and you'll win the prize associated with those pieces.
Game pieces can also be instant win game pieces – in which case you'll win the prize shown!
How to Earn Game Plays
There are 3 ways to earn game plays.
Way #1)  Make purchases.
You can make up to two separate Starbucks purchases per day, and each purchase will earn you a Game play.
Way #2)  Request a Free Play.
You can request a free game play here: https://www.starbucksforlife.com/#oamoe.  Fill out a form to request a Game piece, and Starbucks will send it to you via email.
There is a limit of earning 2 plays per day total – either by purchase, free play, or combined.  So for example if you make a purchase to earn one Game play, you can only request one free Game play that day.
Way #3)  Complete Challenges
By completing Challenges, you can earn bonus Game plays.  You can receive up to thirty-five (35) bonus Game plays from Challenges.
Challenges are little tasks to complete, and come in two flavors:
Challenges that are free to do – such as hings like having coffee with a friend, or practice a random act of kindness.  These work on the honor system.
Challenges that require a purchase – such as making a Starbucks purchase three days in a row, or making purchases from two different Starbucks locations, etc.
In either case, by completing the Challenges, you'll earn bonus entries.
To see the full list of challenges, visit https://www.starbucksforlife.com/#challenges
Note: most Challenges are available to do any time, but some special ones are only available on certain days.
Start & End Dates
The Starbucks for Life Game starts on December 5th, 2017 and ends January 8th, 2018
Eligibility:
Starbucks for Life 2017 Holiday Edition is open only to legal residents of the fifty (50) United States (including DC) who are at least eighteen (18) years old and members of the Starbucks Rewards™ loyalty program
Questions
There is an FAQ here about the Starbucks for Life Game which answers some common questions:
https://www.starbucksforlife.com/?locale=en_US#faq
Also, you can use this contact form to contact Starbucks directly for additional questions:
https://customerservice.starbucks.com/app/contact/ask_rewards
Winners List
Curious who the lucky people are who get to enjoy Starbucks for Life?
The winner list will be posted here at the conclusion of the Game: