Hi!  Below is a sample guest post.  We welcome the chance to write one exclusively for your blog!  -SweepstakesFanatics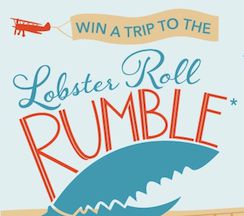 Calling all lobster lovers!  Haagen-Dazs is sponsoring a sweepstakes for a free trip to the Lobster Roll Rumble in New York City in June 2013.
The Lobster Roll Rumble is a culinary showdown, now in its fourth year, where 20 of the country's best lobster rolls duke it out for the title of America's best lobster roll.  The sweepstakes winner will score a prize package that includes 2 VIP tickets to the Rumble, 2 roundtrip airfare tickets to NYC, a $500 Gift Card, and a two-night stay at a 4-Star NYC hotel.  The prize package is worth $2,500.
In addition to the food, you'll get the satisfaction of knowing you helped a good cause because the Lobster Roll Rumble benefits the charity Share Our Strength which supports childhood hunger.
Entering the sweepstakes is simple.  First you'll choose your favorite Haagen-Dazs gelato flavor, then enter your contact info, and finally leave a comment about your chosen flavor.  I choose Sea Salt Caramel as my favorite flavor, but other choices were Black Cherry Amaretto, Cappuccino, and Stracciatella.
The sweepstakes ends on May 23, and you need to be a resident of one of the 49 states (not valid in Rhode Island) to qualify.
Enter by visiting: http://www.tastingtable.com/rumble_sweepstakes.htm
Have I made you hungry yet?  Well if so, go ahead take the tumble and enter the rumble!