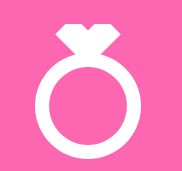 Are you planning a wedding in 2018?  If so, I've collected a few sweeps to help you win a dream wedding!
From free honeymoon vacations to useful cash prizes, these wedding themed sweeps feature prizes to make your special day the best ever!   But act quick, some of them expire soon.
---
Win a Wedding Dress
Hallmark Channel is giving away the wedding dress from the movie "Marrying Mister Darcy".  Look beautiful on your special day in this one-of-a-kind wedding dress!
Entry Deadline: June 30, 2018
Enter Here:  Hallmark Channel's June Weddings Dress Sweeps
Win An Exotic 6-Night Honeymoon
Jewelry TV is giving away a 6-night trip to your choice of exotic locales perfect for a Honeymoon.  Choose from St. Lucia in the Caribbean, Punta Cana in the Dominican Republic, or Cabo San Lucas in Mexico!  Your prize includes round trip airfare, hotel, a $1,000 JTV Gift Card, and $1,000 Cash.  This spectacular honeymoon is an awesome way to relax and unwind as newlyweds!
Entry Deadline: August 31, 2018
Enter Here:  Jewelry TV Summer Styles Sweepstakes
Get Hitched in Las Vegas
Southwest Airlines is giving away a 2 night stay at Planet Hollywood in Las Vegas.  Get married by Elvis and spend your $250 Miracle Mile shopping gift card! Your prize also includes $500 towards airfare and $100 for dinner.  This is one wedding sweepstakes that will help you create memories to last a lifetime and won't break the bank.
Entry Deadline:  May 31st, 2018
Enter Here:  Southwest Airlines Win a Trip to Las Vegas Sweeps
Win a High Tech Suitcase
Need new luggage to take on your honeymoon?  Incase is giving away a ProConnected Suitcase!  This suitcase charges your devices in the terminal or while you are in the air.  Travel in style with this TSA approved high tech suitcase!
Entry Deadline:  May 30, 2018
Enter Here:  Incase ProConnected Suitcase Giveaway
Win Honeymoon Lingerie
Enter to win a $50 Victoria Secret gift card to purchase some fun new lingerie for your wedding night.   Both brides and grooms will surely enjoy this prize!
Entry Deadline:  June 21, 2018
Enter Here:  Win a $50 Victoria Secret Gift Card
Win $5,000 Cash
AirHeads candy is giving away two $5,000 cash prizes in their instant win scratch off game.  $5K will help make a dent in your wedding expenses!  There are also over 1,500 chances to win other cool prizes, like bluetooth speakers and sunglasses – perfect for taking on your honeymoon!
Entry Deadline:  July 31, 2018
Enter Here:  Airheads YouChews Summer Sweepstakes
Win $10,000 Cash
Here's a giveaway where one lucky winner receives $10,000 cash!  $10,000 will go a long way to help you buy your dream dress, go on a romantic honeymoon, or get the extravagant wedding cake you really want!
Entry Deadline: June 10, 2018
Enter Here: Curly's $10,000 Sizzling Summer Sweepstakes
Although weddings today are expensive, with some planning and a little luck, you can have the wedding of your dreams without breaking the bank!  Check the deadlines above and be sure to enter today so you don't miss your chance to win your 2018 dream wedding!