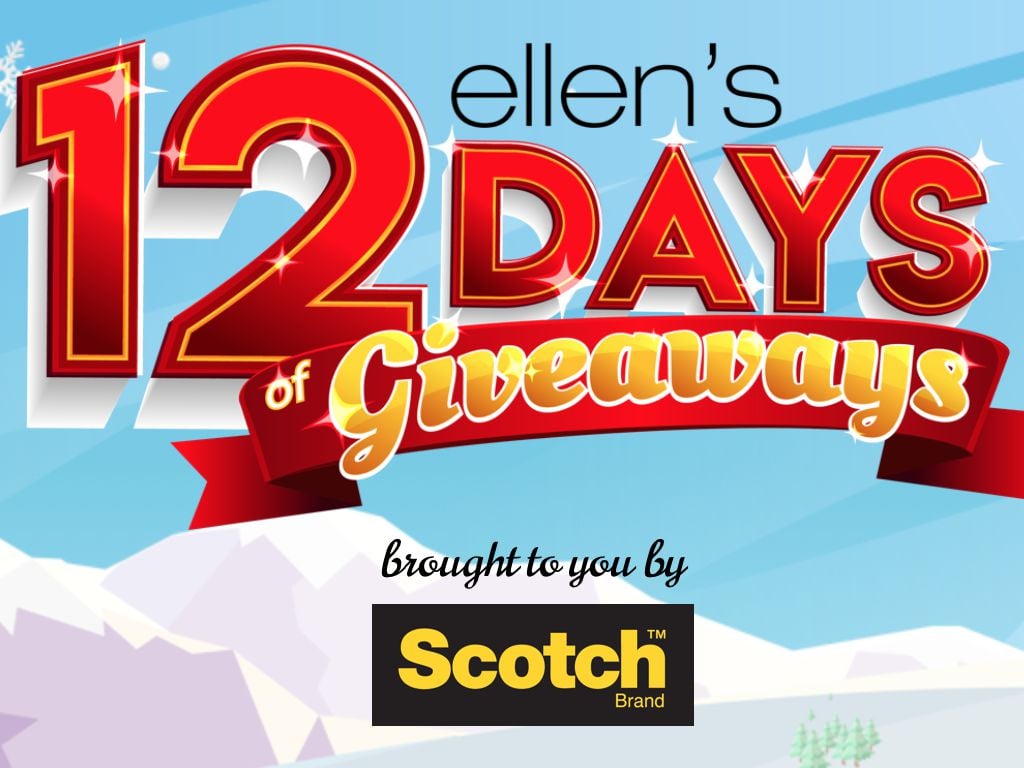 🔥 2021 is Now Live – CLICK HERE for Ellen's 12 Days 2021!
Ellen's 12 Days of Giveaways 2019 is officially over, but it'll be back next year!
Continue reading below about Ellen's 12 Days of Giveaways 2019!
Ellen's 12 Days of Giveaways (AKA Ellen's 12 Days) is a HUGE GIVEAWAY event that happens every Christmas season on The Ellen Show. 
In this article, I'm going to tell you everything you need to know to maximize your 2019 entry opportunities and chances of winning! 
Jump To:
How Can I Still Win ALL the Prizes?
Even though Day 12 has passed, it turns out you can still enter to win 12 Days Prizes! 😃
There are several entry forms available where you can win ALL THE PRIZES from all 12 Days!
Here's how to find them:
EllenTube App
Download the EllenTube app and look in the menu bar of the app for a link to the entry form.  You can download it from App Store or Google Play.
EllenTube Newsletter
Ellen on the Go Podcast
Listen to an upcoming episode of Ellen's podcast and they'll mention the link to the entry form.
EllenShop Newsletter
Subscribe to the EllenShop newsletter and you'll be automatically entered!
Game of Games App
Download Ellen's Game of Games app and they'll be a special game you can play to find the entry form.  You can download it from the App Store or Google Play
The Merriest Loser
For this one, all you need to do is have entered all 12 days of giveaways individually without a win and you'll be placed in a  special second chance drawing to win all the prizes!
Where Do I Enter?
==>  Visit This Link to Win All 12 Days of Prizes!
What are the 2019 Prizes?
Day 12 Prizes (w/ co-hosts Chrissy Teigen and Kim Kardashian)
$250 Starbucks Gift Card
2 Round Trip Tickets on JetBlue
KKW Beauty & Fragrance
SKIMS Shapewear
Kygo Life Headphones & Speaker
6-Day, 5-Night Stay at Karisma Hotels & Resorts
Day 11 Prizes (w/ co-host Adam Sandler)
Catalyst Case and Apple Airpods
JBL Partybox 100 Speaker
2-Year Spotify Premium Subscription
6-Day Stay for Two at S Hotel Jamaica
Beatles Abbey Road Vinyl Box Set
Victrola Record Player
Fender Acoustic CC-60's Concert Pack
Day 10 Prizes (w/ co-host Blake Shelton)
$500 Visa Gift Card
$350 Walmart Gift Card + LEGO Set
$250 Home Depot Gift Card
KitchenAid Stand Mixer & Bowl
3-Day Stay at Wyndham Rewards
Day 9 Prizes (w/ co-host Octavia Spencer)
$300 Amazon Gift Card from Amazon Treasure Truck
$300 Amazon Gift Card from Baby Shark
iRobot Roomba 960 Robot Vacuum
Amazon Echo Plus and Echo Show 5
Samsung Galaxy Watch Active2
Segway Electric Kick Scooter
NordicTrack Treadmill
Day 8 Prizes (w/ co-host Chrissy Teigen)
$400 Visa Gift Card from Kiddle
$300 West Elm Gift Card
$500 Lush Gift Card
65" TCL Roku TV and Alto 7 Soundbar
$300 Package from Cravings by Chrissy Teigen
$50 in Points from Preferred Hotels & Resorts
Day 7 Prizes (w/ co-host Chrissy Teigen)
$300 Target Gift Card
$400 Under Armour Gift Card
$300 ED by Ellen DeGeneres Gift Card
Away Carry-On Suitcase
Project Rock Headphones
Be KIND by Ellen Subscription Box
3-Day Stay at V Hotel in Palm Springs, CA
Day 6 Prizes (w/ co-host Sean Hayes)
$300 Amazon Gift Card
$300 Nordstrom Gift Card
$200 Mastercard Gift Card
Master & Dynamic Headphones
Keurig Drinkworks Home Bar
Cubcoat
3-Day Stay at Fairmont Scottsdale Princess
Day 5 Prizes (w/ co-host Sean Hayes)
$250 Amazon Gift Card
$250 Walmart Gift Card
Calphalon 13-Piece Knife Set
Calphalon 14-Piece Cookware Set
Emeril Lagasse Airfryer 360 Oven
Food Network Kitchen App Subscription
Amazon Fire HD" Tablet
4-Day Stay at Civana Wellness Resort & Spa
Day 4 Prizes (w/ co-host Sean Hayes)
Beats Solo Pro Noise Cancelling Headphones
$300 Fandango Gift Card
$600 Mastercard from Booking.com
$500 Postmates Gift Card
$500 Soothe Gift Card
$300 Lyft Gift Card and 6-Month Membership
Day 3 Prizes (w/ co-host Tig Notaro)
$300 Best Buy Gift Card
Nextbase Dash Cam
Como Audio Amico WiFi Speaker
Calphalon ActiveSense Blender
Tineco PURE ONE S12 Plus Vacuum
3-Day, 2-Night Stay at Palms Casino Resort in Las Vegas
Day 2 Prizes (w/ co-host Jimmy Kimmel)
$500 Visa Gift Card from GiftCards.com
$500 Worth of California Lottery Scratchers
$550 Exclusive Gift Set from Tatcha
$300 Outdoor Voices Gift Card
Day 1 Prizes (w/ co-host Kym Douglas)
$500 Target Gift Card from Good & Gather
$300 Target Gift Card from Sodastream
$300 Target Gift Card from GE Lighting
$250 Target Gift Card from Keurig
3-Day/2-Night Stay at Miraval Austin
Black Friday Day Prizes (w/ co-host Chrissy Teigen)
$300 Amazon Gift Card
$500 Shutterfly Gift Card
$400 H&M Gift Card
5-Day Stay at the Diplomat Beach Resort in Florida
Goldie Blox Set
Preview Day Prizes (w/ co-host Victoria Beckham)
5-Year Netflix Subscription
Cariloha Mattress
$500 Marriott Gift Card
$250 of Victoria Beckham Beauty
Who are the 2019 Winners?
You can find the winners names listed on EllenTube, but here they are below for your convenience:
Day 12 Winners
Cynthia M. – Gothenburg, NE
Rachael W. – Bradenton, FL
Starsha A. – Los Angeles, CA
Justin F. – Waxahachie, TX
Alvergia B. – Towson, MD
Jenn Y. – Greene, NY
Sheila S. – New Castle, PA
Candice F. – Mattoon, IL
Scott H. – San Francisco, CA
Faith E. – Newton Falls, OH
Day 11 Winners
Lorrie P. – Canton, OH
Veronica L. – Sparks, NV
Judy P. – Sugar Land, TX
Paris M. – Aurora, CO
Andru L. – Mesa, AZ
Angie K. – Andover, KS
Jennifer L. – West Allis, WI
Nakona M. – Baltimore, MD
Kelby S. – Springfield, OR
Alyssa C. – Freehold, NJ
Day 10 Winners
Laura C. – Albany, OR
Silver W. – Meriden, CT
Roberta C. – Shelbyville, KY
Erica L. – Hopkinsville, KY
Daniel W. – Los Angeles, CA
Bari M. – Flower Mound, TX
Elizabeth M. – Bell Gardens, CA
Chris M. – Nashville, TN
Candy M. – Port Charlotte, FL
Tania P. – Keyser, WV
Day 9 Winners
Kendra F. – Peoria, IL
Ashley C. – Dothan, AL
Brandie M. – Kendall Park, NJ
Hannah W. – Rideway, WI
Sandy B. – Grapevine, TX
Juliana C. – Kansas City, MO
Frank P. – Midlothian, TX
Trisha C. – Colbert, OK
Mark W. – Homewood, AL
Carm H. – Rockton, IL
Day 8 Winners
Michelle K. – Sinking Spring, PA
Haili M. – Northville, MI
Rachelle M. – North Huntington, PA
Lindsey T. – Pawtucket, RI
Amy E. – Grand Junction, CO
Tyler L. – Ripon, WI
Gina C. – Los Angeles, CA
Alicia F. – Downey, CA
James W. – Grand Rapids, MI
Alexis S. – Fairborn, OH
Day 7 Winners
Hang T. – El Monte, CA
Jeremy B. – Lake Charles, LA
Lauren P. – Anniston, AL
Kristine K. – Springfield, TN
Carmen R. – Las Vegas, NV
Tamara W. – Hopkinsville, KY
MeMe B. – Poinciana, FL
Evangelina E. – San Tan Valley, AZ
Randall G. – Omaha, NE
Sherry P. – Emmaus, PA
Day 6 Winners
Jessica W. – Orlando, FL
Luis P. – Panorama City, CA
Renae W. – Largo, FL
Alice A. – Malvern, AR
Vinnie G. – Cathedral City, CA
Allie M. – Lake Forest, IL
Suzy H. – Crawfordsville, IN
Christopher V. – Port Hueneme, CA
Diana B. – Lakewood, CO
Bonnie S. – Amite, LA
Day 5 Winners
Meagan B. – Novi, MI
Amy K. – Carver, MN
Amber L. – Windsor Locks, CT
William H. – Vassalboro, MD
Christal O. – Harrison, MI
Ichen Y. – Chicago, IL
Kaitlin G. – Los Lunas, NM
Teisha S. – Battle Creek, MI
Katie B. – Houston, TX
Britin W. – Exeter, CA
Day 4 Winners
Lela H. – Camden, DE
Dawn B. – Phoenix, AZ
Christine A. – Wallkill, NY|
Tracey M. – Clarence Center, NY
Rosalia G. – Bonita, CA
Karen H. – Norwalk, CA
Melanie Q. – Normal, IL
Nicole V. – Lakeville, MN
Richard K. – Oklahoma City, OK
Jennifer M. – Jensen Beach, FL
Day 3 Winners
Bianca T. – Albuquerque, NM
Kristen S. – Laconia, NH
Adriana L. – Indianapolis, IN
Cynthia P. – West Bloomfield, MI
Chris M. – Cedar Creek, TX
Marcus W. – Chattanooga, TN
Alissa M. – Sylvania, OH
Tracy W. – Washington, DC
Sandy G. – Fishers, IN
Karin H. – Los Angeles, CA
Day 2 Winners
Kai P. – Boston, MA
Lisa M. – Lansing, KS
Tara O. – Royersford, PA
Marisa T. – Vero Beach, FL
Maggie O. – Los Angeles, CA
Ankur J. – Olathe, KS
Justin Y. – Muncie, IN
Sharon S. – Munford, TN
Shelly H. – Pottsville, PA
Chris S. – Brownsburg, IN
Day 1 Winners
Shannan B. – Berea, KY
Desiree F. – Spring Hill, FL
Kristin N. – Knoxville, TN
Bailee B. – Fairfax, VA
Juliat B. – Oxnard, CA
Kirsten L. – Concord, NC
Dan S. – Cape Coral, FL
Kairee H. – New Berlin, WI
Alberto R. – West Sacramento, CA
Kevin F. – Detroit, MI
Black Friday Day Winners
Virginia M. – Onalaska, WI
Mitchel S. – Evansville, IN
Thelma F. – Woodbury, NJ
Terri Rees – Las Vegas, NV
Kristin S. – Northville, MI
Tedd W. – Selingsgrove, PA
Pat H. – Stockton, CA
Becky A. – Spooner, WI
Connie T. – Methuen, MA
Angela L. – Lafayette, CO
Preview Day Winners
John B. – Boyds, MD
Kate K. – Wilmington, DE
Lisa C. – Irvine, CA
Julio U. – South Gate, CA
Shaun M. – Amarillo, TX
Kristin S. – River Grove, IL
Angela M. – Jamestown, NY
Ntika M. – Irving, TX
Stuart H. – Apex, NC
How Does 12 Days of Giveaways Work?
12 Days works like this:  During certain tapings of The Ellen Show, Ellen will make a surprise announcement and reveal the show to be a "12 Days Show".
The studio audience gets to take home the gifts presented, while the home viewing audience can enter online to win them.   The gifts from any given day are usually worth between $1,000-$4,500.  
There are 12 individual tapings where this happens – hence 12 Days!
Watching the unveiling of the gifts is always fun and entertaining.  Celebrities help Ellen announce the gifts in funny skits.  Julia Roberts, Steve Carrell, and John Krazinski are just 3 celebrities among dozens. 
What Can You Win?
Gift cards are a favorite of Ellens!  Last year, Ellen gave out gift cards ranging in value from $250-$500 to Target, Amazon, Walmart, Best Buy, Visa, and many more!
Other 12 Days prizes in past years have included home & kitchen appliances, cookware, televisions, and even full vacations.
And let's not forget about those coveted gadgets and tech items – Ellen loves to give away iPhones, Roombas, and Dysons. 
Ellen gives away great prizes that are in high demand.  One of the highlights of 12 Days is discovering cool new products and services!
What Else is Ellen Giving Away?
In addition to the daily giveaways for each of the 12 Days, Ellen is also having some extra giveaways.  Here are the important links:
Win Ellen's Greatest Night of Giveaways!
Win ALL the prizes from ALL 12 Days!
Win $25,000 CASH from EllenShop!
Win $50,000 CASH or 12 Days Gifts!
How Can Ellen Give Away All These Prizes?
Ellen's show is supported by sponsors.  These sponsors are happy to give away their products for free as gifts in exchange for the massive exposure that comes from being featured on the show.  Ellen's viewership is 4.2 million people on average – and likely higher during 12 Days – so 12 Days sponsors are able to reach a very large audience of people and prospective customers.  
How Many People Will Win?
In all, nearly 5,000 people will receive prizes.  This includes online entrants as well as the live studio audience.
The combined retail value of all prizes is in the MILLIONS of dollars!
When Does 12 Days Start?
Twelve Day of Giveaways 2019 officially started on Nov 25th, 2019 and is expected to last until Dec 17th, 2019.
How Do I Enter?
There is an online entry form that Ellen will post on her site – Ellentube.com.   
EllenTube.com is the companion website for the Ellen Show TV show.  
Simply fill out the entry form posted on EllenTube.com to gain an entry.  
In some past years, Ellen has required entry codes to enter.  She reveals these codes via her social media channels and family of apps.  If codes are required this year, we'll publish them on Sweepstakes Fanatics to help you maximize your entry opportunities.
How Do I Maximize My Chances of Winning?
Winning a 12 Days prize comes down to being informed and entering as much as you're allowed.  
I recommend bookmarking Sweepstakes Fanatics because I will be posting each day's giveaways and supplemental information daily.
Here are a few things to do now to maximize your chances of winning:
1. Sign up for an EllenTube.com Account
Since entering the giveaways requires you to have an EllenTube account, you should sign up now to save time.
2. Subscribe to Ellen's email newsletter
Ellen sometimes puts exclusive links to giveaways (12 Days and otherwise) in her newsletter that she doesn't publicize outside the newsletter.  Also, if Ellen requires code words this year there's a good chance the newsletter will contain one.
3. Follow Ellen's social media channels
Following Ellen's social media channels is a good way to stay updated on 12 Days news and announcements and all things Ellen. Also, if Ellen requires entry codes this year, its likely they'll be found in her social media.  
4. Download a few of Ellen's mobile apps
There's a good chance code words – if needed – will be found inside the apps.  Here are download links to some of Ellen's popular mobile apps: 
5. Follow Sweepstakes Fanatics
We will keep you updated everyday on our website with the latest 12 Days news and info!
How Can I Get Tickets to 12 Days?
One guaranteed way to score 12 days prizes is to attend a live 12 Days taping of The Ellen Show in Burbank, CA!
Here are a few different tactics you can try to score tickets:
Shop EllenShop
Ellen has a promotion on EllenShop where if you buy $40 of merchandise you got an automatic entry into a sweepstakes to win tickets to a 12 Days show taping.  You can enter this EllenShop 12 Days Sweepstakes for free by simply registering (ends Nov 21)!
Nominate a Friend
Ellen is seeking nominations for deserving people to get trips to a 12 Days show taping.  She's looking for people that are deserving and selfless. So if you know someone like that – nominate her or him.  Who knows – if they get picked to attend they may just take you as their guest!
Make a Ticket Request
You can apply to get show tickets in the ticket lottery.  Although it's a longshot, this process is straightforward and you can keep requesting tickets every few weeks.    
Conclusion
Ellen's 12 Days of Giveaways is a massive giveaway event.  By being organized and informed, you can maximize your opportunities to enter and win!  Be sure you bookmark Sweepstakes Fanatics and join our Facebook Page and Facebook Group – to get daily information, reminders and updates!